MEET THE CONFERENCE CREATORS
At present, it's more important than ever that everyone that is part of Code Mesh and the diverse programming communities we represent keeps on learning, sharing and inspiring. We want our attendees to be a full and contributing part of our virtual conferences for the simple reason that we are trying to attract like minded people. We facilitate this via our interactive talks, Q&A and ask me anything sessions and forums, which are all run on our dedicated conference app.
With just over a month to go until the conference on 5-6 November we wanted to share a little bit of insight about those involved in driving the direction of the conference to be the best possible event for alternative and emerging technology.
We start with Francesco Cesarinin, someone who needs little introduction when it comes to the functional programming world. Here's a little bit more about him as a core member of the Code Mesh Programming Committee.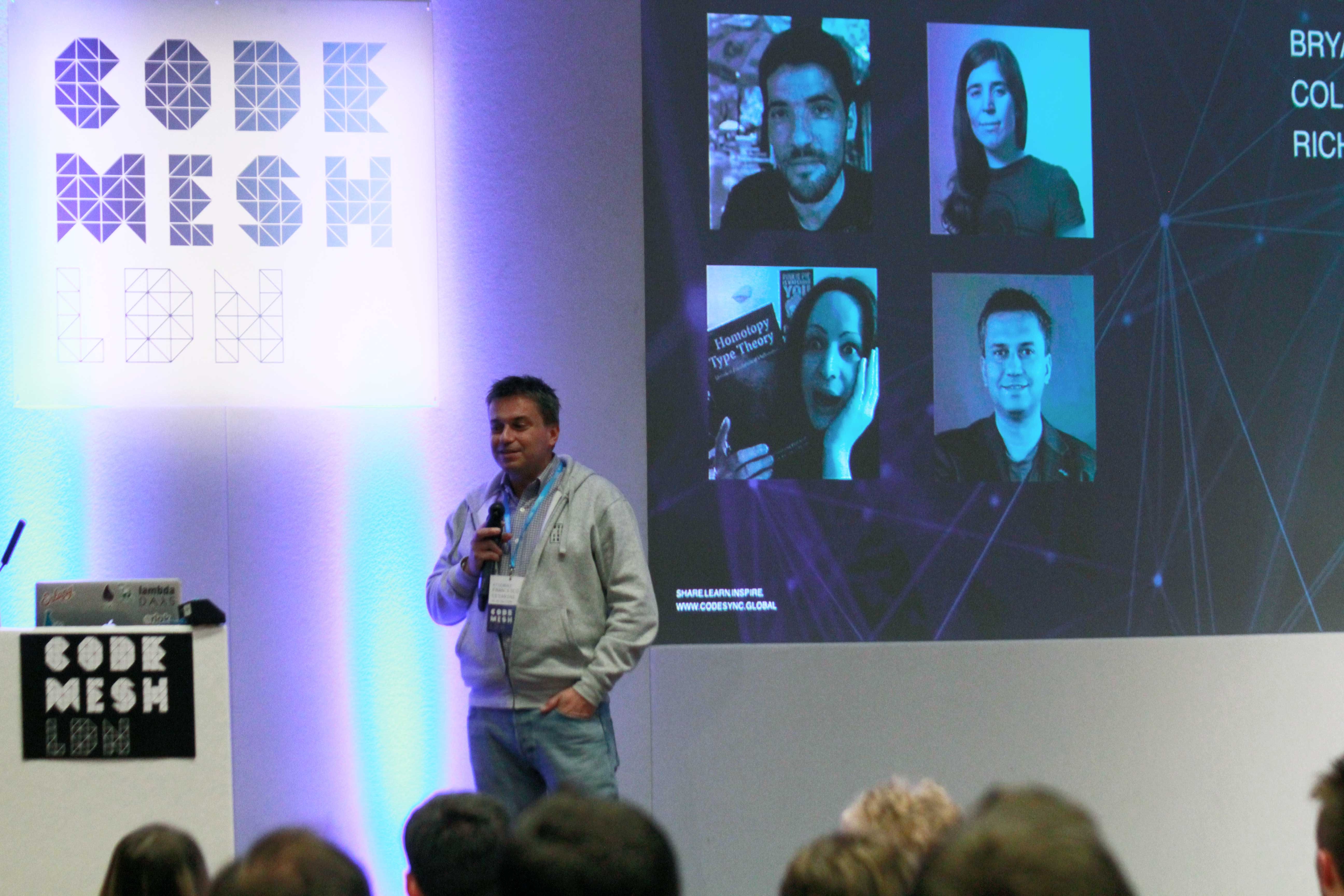 Who are you, Francesco?
I am the founder and technical director of Erlang Solutions, O'Reilly author, teach the concurrency course for the industrial Master's program at Oxford University, sit as a board member of the Erlang Ecosystem Foundation and on the advisory board of the Reactive Foundation.
How did you get into programming?
On my Commodore Vic 20, programming Turtle Graphics, and later, copying basic programs from magazines. Pascal followed in high school, and functional programming with SML in University. It is the Turtle Graphics aspect which makes me really excited about having Cynthia Solomon in the speaker lineup this year. She was one of the driving forces behind Logo, the programming language for children.
Which tech do you use and to solve which problems?
The BEAM VM and languages running in the Erlang Ecosystem, including (but not limited to) Erlang and Elixir. But I am very much about using the right tool for the job rather than the tool at hand, so in the system architectures you see me work on will have a mix of programming languages depending on the problems we are solving.
Which themes are you curating and what can we expect from it?
I've teamed up with Yan Cui and Evadne Wu, and together, we are curating the Infrastructure, the Distributed Systems and Concurrency, Multicore and parallelism themes, as they are all tightly related. You can expect lots of talks and case studies on serverless, scalability and reliability.
What excites you about this edition of Code Mesh? What benefits do you see from it going virtual and global this year?
Every edition of Code Mesh excites me. Being able to invite my heroes and people I look up to as speakers, and mingle with like minded attendees is a dream come true. This year, we've been able to reach out to speakers who have not been able to attend in person, but who could commit virtually. With our US and European editions, I am also excited by our ability to be able to reach out to attendees in Europe, Africa, South, Central and North America without them having to travel, at a fraction of what it would have otherwise cost.
Code Mesh is committed to encouraging diversity and inclusion in the tech community - what are your thoughts on this important issue?
I am proud of what we've been able to achieve, and how we are trying to improve year on year. I need to thank the program committee, and more specifically Bodil for this. My view is that actions and results speak for themselves, so you will not see me or others brag about it. And whilst being proud, the effort put in never stops, as we are aware that we have to get better year on year.
What are your must-haves for a working environment that is conducive to writing great code?
A great editor (emacs of course), lots of coffee, attention to detail and a passion to get things working. And lots of smart, like minded people around you.
Which tech will have the biggest influence on our lives in the next 10 to 20 years?
Machine learning and AI. It will shift the focus on where we have to put our effort and where jobs will be. This is linked to IoT and data we are collecting, as well as
Worst mistakes you've made while programming and what was the outcome?
Listening to Joe Armstrong and not listening to Joe Armstrong. He was an endless source of ideas and inspiration, but you had to learn how to filter his ideas and act on them, dropping those which were too far fetched. The outcome? One or more sleepless nights solving problems successfully he later claimed were insolvable...
Any highlights/memories from previous Code Mesh conferences you can share?Joe Armstrong interviewing Alan Kay mesmerized the whole audience, and my introducing them (based on a suggestion by Alan Kay) as two guys who had been around for a while. I am not sure how long that talk ran over, but no one wanted it to stop. It was also Code Mesh which allowed me to bring together Tony Hoare, Carl Hewitt and Joe Armstrong in an interview and panel discussion, learning about the problems they were trying to solve when they came up with CSP, the Actor Model and Erlang Style Concurrency respectively. Their answers blew me away, as they are reflected in the themes I curate. Figure out how to program transputers (the predecessor to multi-core) with CSP, figure out how to program distributed systems with the Actor Model and figure out how to implement fault tolerant systems with Erlang Style concurrency.
If you weren't a computer programmer what other (not tech) job would you be doing?
I would be working in either the finance, catering or tourism business, mixing it with tech. And I have spared the odd thought about becoming an organic vegetable farmer.
Apple or Android?
Android, even if I am a Mac and IPhone user.
Favourite superhero or villain
Mickey Mouse!
Francesco will be delivering a tutorial at Code Mesh V - FIND OUT MORE
You can follow Francesco on Twitter here